Gift cards
The knivesandtools gift card is the best gift for cooking aficionados and outdoor enthusiasts. With this card the happy recipient can select the product they desire most. The gift card is neatly wrapped and send in a closed box. Amazing to give and to receive!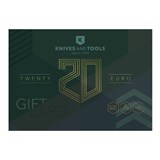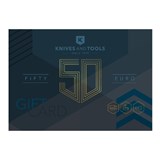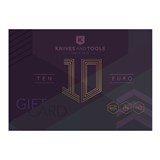 How does the gift card work?
Did you receive our gift card? You can use it by filling out the code during the final step of the ordering process (payment and shipping options).
Every gift card is unique and is valid for 3 years
The gift card is a payment method, is used as money in the shopping cart and cannot be exchanged for cash
The gift card can be used for multiple orders (if the order amount is smaller than the amount on the gift card)
Multiple gift cards can be used for one order
A lost, stolen or used gift card cannot be sent again
Terms and conditions
These terms and conditions apply to all knivesandtools gift cards, which are sold by KATO Group BV. When you use a gift card you automatically agree to these terms and conditions.

Gift cards are not the same as coupon codes and other discount codes the KATO Group BV gives out. Gift cards have a unique combination of numbers, letters or both. These gift cards are exclusively created and sold by KATO Group BV via its websites. The recipient gets the actual code once. A lost, stolen or used gift card cannot be sent again because it is unique. There will be no refund or new code provided. KATO Group BV has the right to fully accept the code once they have received it in physical form. When a code is used falsely, KATO Group can demand an actual payment for the goods. A gift card can be redeemed as a payment method in the shopping cart. This is at the end of the ordering process. One order can have multiple gift cards. Every gift card has the expiration date written on it. After the expiration date the card is no longer valid. The gift card can only be used in a KATO Group BV web shop. Gift cards cannot be used for orders that have already been placed or outstanding amounts. The gift card cannot be redeemed for cash. When the amount on the gift card is higher than the order amount, the remaining sum will stay on the gift card until the expiration date. When the order amount is higher the extra amount can be paid after redeeming the gift card. When a product that is bought with a gift card is returned, the amount will be reinstated on the card. The gift card cannot be redeemed for cash. One cannot change, hack or forge the gift card. Attempts in doing this will result in the card being cancelled. These general terms and conditions are subject to change over time. The user of the gift card is assumed to be aware of the terms and conditions. The terms and conditions apply which were on the website at the moment the gift card was sold.

<![if !IE]> <![endif]>