Reviews for Robert Herder Windmill knife carbon steel, 4 piece set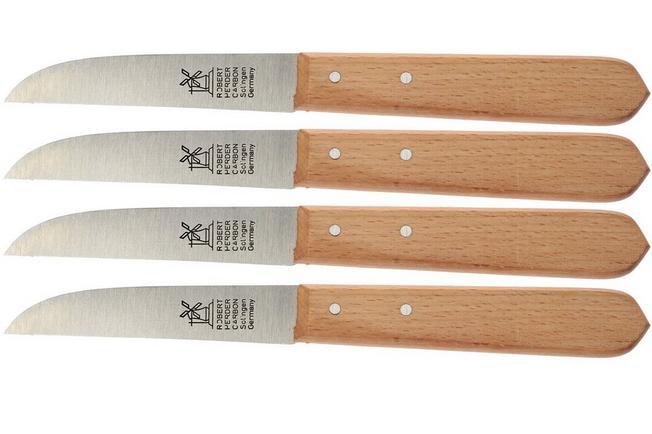 Article number RH2214023-SET4
Reviews for Robert Herder Windmill knife carbon steel, 4 piece set
In stock
Fast delivery from our own stock
Our customers give us a 5-star rating
Fast delivery from our own stock
See all product information
Reviews
John in Scotland, Fraserburgh
Friday, May 6, 2022
The most amazing kitchen knives ever - my Mom brought hers over from Belgium in 1957 and the carbon steel knives have stood the test of time - her original knife lasted over 25 years of daily use to bless her 5 children with amazing home cooked meals before we had to finally order a new carbon steel knife. 100% totally worth investing in this knife. My Mom, my wife are both chefs and these knives are the worlds best for daily use as an all round practical kitchen chef knife.
---
alain beck, Le Bourget-du-Lac
Tuesday, February 8, 2022
---
Jan, Leiderdorp
Wednesday, February 2, 2022
---
Koen, Vlierzele
Wednesday, February 2, 2022
---
BROERE, Zuienkerke
Wednesday, January 12, 2022
---
Lodewijk, Rotterdam
Monday, December 20, 2021
---
Marjon, Sint-Oedenrode
Wednesday, December 8, 2021
---
Roel, Mechelen
Thursday, December 2, 2021
---
Corine , NOORDWIJK
Monday, November 1, 2021
---
D. S., Oosthuizen
Wednesday, June 30, 2021
---
Adriaan van der Meer, Naaldwijk
Monday, May 31, 2021
---
H.P. van Diggele, Amsterdam
Monday, May 31, 2021
---
Marcel Janssen, Venlo
Wednesday, May 26, 2021
---
Deduytschaever Georges, Heusden
Wednesday, May 12, 2021
---
, Ommen
Tuesday, May 11, 2021
---
R de Zwart, Krimpen aan de Lek
Tuesday, May 11, 2021
---
Ronny Van Malderen, Merchtem
Tuesday, January 12, 2021
---
Lesley Watters, London
Tuesday, January 5, 2021
Have used these paring knives for years - so bought one each for my kids and their spouses but I had to tell them that the straight bit was the blade as they didn't realise ! Makes peeling potatoes a doddle and slicing small stuff a dream. Just quickly wash and dry after use and they will last for ages. They may discolour but that is the way of them. I bought my original one from an English knife shop but tracked them down to you when wanting to buy the recent ones.
---
Dominique RAZE, Gruson
Wednesday, December 30, 2020
---
Françoise, Oostduinkerke
Tuesday, December 22, 2020
---
Article number RH2214023-SET4
Reviews for Robert Herder Windmill knife carbon steel, 4 piece set
In stock
Fast delivery from our own stock
Our customers give us a 5-star rating
Fast delivery from our own stock