Reviews for Silky Bigboy 2000 360-6.5 coarse, orange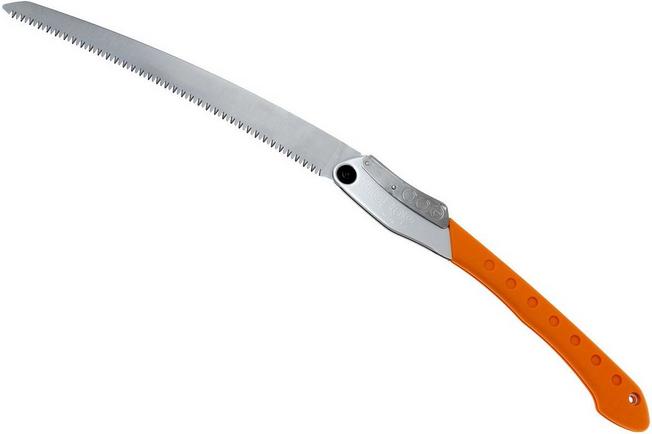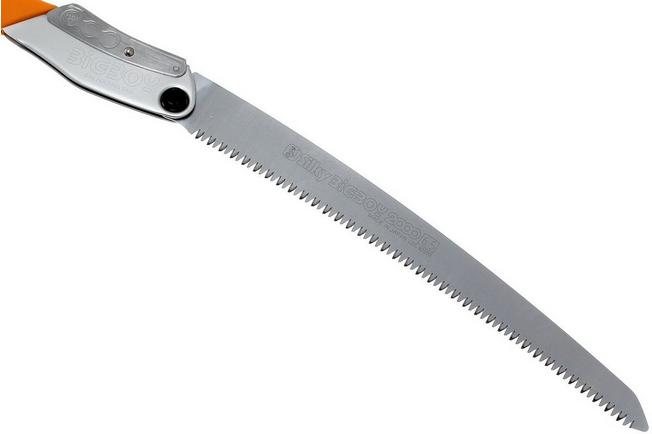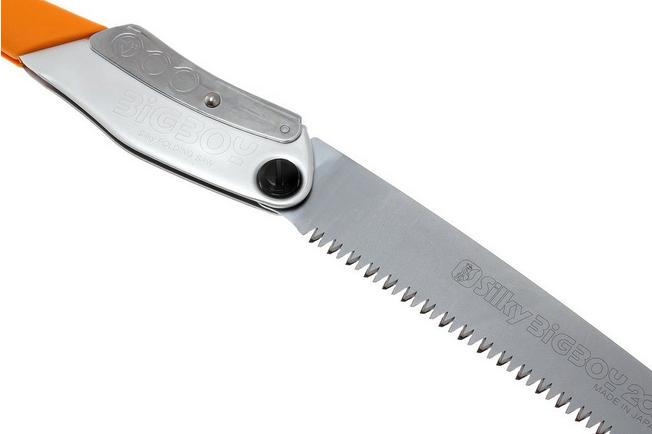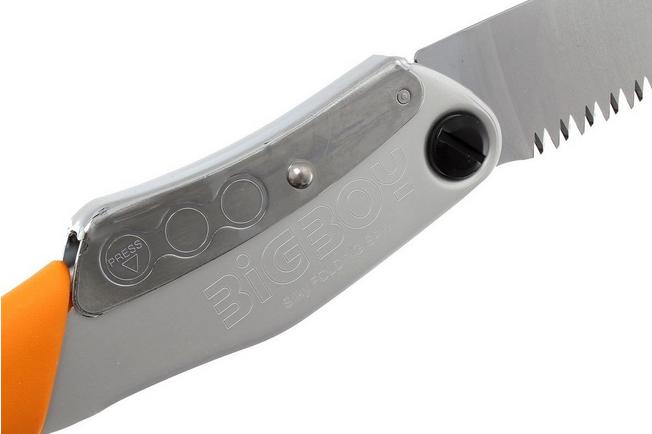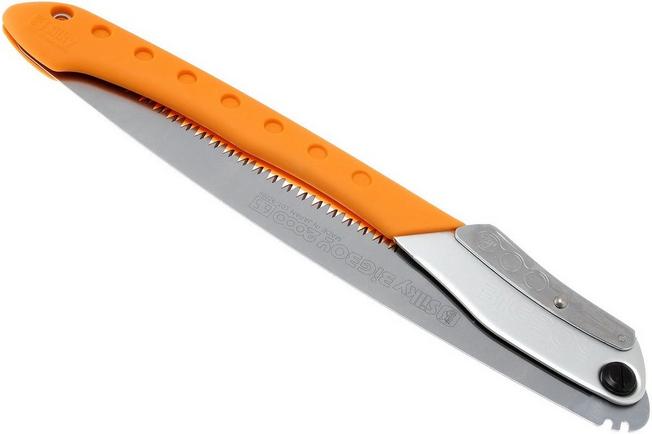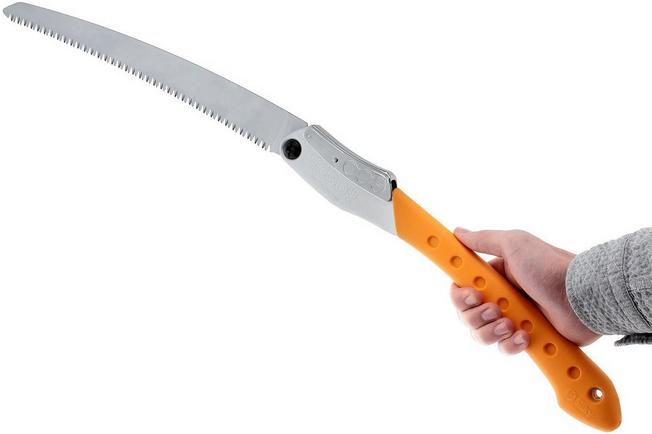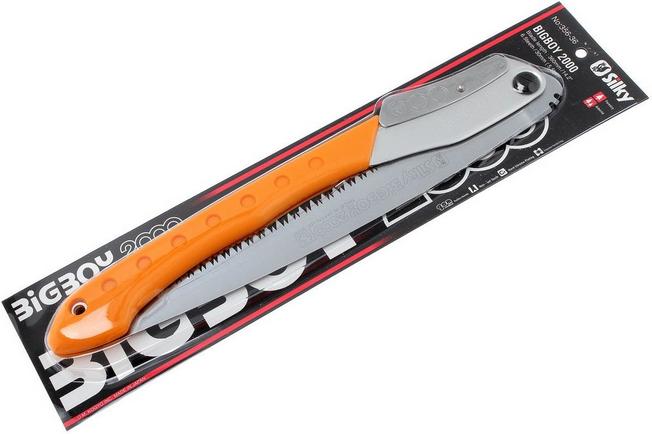 Reviews for Silky Bigboy 2000 360-6.5 coarse, orange
In stock
Fast delivery from our own stock
Our customers give us a 5-star rating
Fast delivery from our own stock
See all product information
Reviews
Tosh, Axminster
Friday, May 20, 2022
Top, top piece of kit. Highly recommended
---
orestis stamoulis, Athens
Friday, April 29, 2022
A very good quality saw perfect for outdoor use very easy to work whit him value for money exactly like in the photos .
---
Chas, Shrewsbury
Friday, March 25, 2022
Awesome tool. Can be used single or doubled handed. With it's light curve it works well above or below the waist. Only snag is that you need to seperately source some sort of case for it, as the teeth in the middle of the blade are not fully covered by the handle when closed.
---
Alan Lyons, Dublin
Tuesday, May 4, 2021
Superb saw..bit apprehensive to begin with,considering the price,but my god its worth every penny.used a bow saw before this,and after maybe 4 reasonable size cuts of an 8" log (4peices)my t-shirt would be stuck to me with the sweat..this saw is effortlessly to use,and almost pleasurable. No more sweaty t-shirts..you will not regret buying this saw.not one negative thing to say about it.i have used it to cut maybe 5 felled trees into 6 logs each,and not a blemish to the blade..you get what you pay for,and i now see it as an investment, and its up there with my top bushcraft tools.
---
Volker Korte, ULM
Tuesday, January 12, 2021
---
Jan Tercken, Ranst
Wednesday, January 6, 2021
---
Ionut Tabacu, Bucharest
Tuesday, December 22, 2020
I bought this after I tried a small one from the same company. They are reliable and sturdy. Take into account that the saw cuts only on pulling. Do not try to cut otherwise because you might brake the blade. It was created to work like that, not an issue.
---
Peter van der Most, Alkmaar
Tuesday, July 14, 2020
---
Folkert Zuijderduijn, Roden
Tuesday, June 23, 2020
---
Him, Aberdeen
Tuesday, March 24, 2020
The best hand saw I have ever use!!and I have bought one for my friend !!if you consider to buy hand saw buy it Silky!!you want be disappointed!!
---
Mensur Bajcinca, Sundern
Wednesday, February 12, 2020
---
Peter, Impe
Tuesday, January 28, 2020
---
Norman West, Blairgowrie
Tuesday, September 24, 2019
This is the most amazing saw. It is mega -sharp, easy to use and produces a very fine cut with a smooth finish. Easily cuts through 40cm logs. So good that I intend to buy the 650mm saw and forget about buying a chainsaw.
---
Roy Van der Veen, Apeldoorn
Thursday, April 25, 2019
---
Joës v Went, Waddinxveen
Thursday, January 10, 2019
---
Volker, Florstadt
Wednesday, June 20, 2018
---
Dave, Monmouth
Monday, March 5, 2018
This Silky saw is exactly as good as I expected. You have to understand how to operate a 'pull saw' of course, and then it is a compact, lightweight tool which I have used to cut through 5" (12cm) green ash without extreme effort. The curved blade does seem to make the teeth dig in without any downward force being required. Small branches (3/4" 2cm) are cut with one stroke. The teeth in the centre of the curve are exposed when folded, so if you put this in a rucksack with clothing say, this could get snagged on those few visible teeth - I made a nylon stuffsack for the saw, and that problem has gone away. (this Silky does not come with any kind of holster/sheath, unlike some other models) If you are used to a Bahco Laplander, this Silky is just more capable if you are prepared to carry the extra size and weight. The saw looks extremely well made to me - with a very solid latching action, and a taper-ground blade (teeth thicker than spine) rather than flat ground with set over teeth as the Bahco has. Not sure which is better, but it's just a nice way to make it - Swiss Army Knife saws are ground like this. The Silky blade is much stiffer than a Bahco blade, if that means anything to you. This is a good thing. It is fairly expensive compared with an equivalent bow saw, but I expect this tool to last a loooong time - sharpening the teeth would be difficult, so a replacement blade would have to be bought, roughly half the cost of the saw. -----------------------------------------------------------------------------
---
Nigel P, Laurencekirk
Tuesday, January 23, 2018
Usual Silky quality, the folding and locking action are smooth and precise. The teeth on this particular model are very coarse and not really suited to thinner branches, but it powers through the thick branches with ease. It should probably be offered with some sort of sheath or pouch as standard, as the teeth are not fully covered when folded, but this is more of a storage issue than a safety one. Overall, a very good saw.
---
Fabrice, Vay
Wednesday, December 20, 2017
---
Gary Cutler, Shanklin
Thursday, October 26, 2017
There are cheaper Silkys than this one. I bought this particular model because the blade has a second locked position. This makes it possible to cut very close to the ground. As with the majority of Japanese saws it cuts on the pull stroke. Initially, it felt strange. However, you soon get used to it. It is important that you do, as attempting to cut on the push stroke could result in the blade snapping. Luckily, the saw cuts very smoothly, with very little effort. A little pricey, but a really good saw if used properly.
---
Reviews for Silky Bigboy 2000 360-6.5 coarse, orange
In stock
Fast delivery from our own stock
Our customers give us a 5-star rating
Fast delivery from our own stock