Gerber Principle vs ESEE Izula II | Versus by Padraig Croke
The Gerber Principle is a few years old now, but I haven't seen many people use them. They seem to me like a great companion blade option. So we thought, why not put it face to face with what would arguably be its most direct competitor… The tried and tested ESEE Izula II, in my opinion, one of the best companion blades on the market today. Both of these knives are USA made, come in at a very similar price range, and are basically the same size. If you're choosing a companion blade to supplement your larger camp knife, which are you going for? Let's take a closer look at these two tools and how they stack up against each other. Bear in mind that these comparisons are subjective, and completely open to debate. Let me know if you have a differing opinion!
Companion blades
Companion blades? For the sake of this article, let's say that a companion blade is a knife that is supposed to work alongside a larger camp knife. Usually worn around the neck at camp, or perhaps on the side of your pack when on the move, the demands put on these tools in theory shouldn't be so extreme as to expect it to baton, twist or torque in the same way that we might expect our main knife to perform. That is not to say that these knives can't do those things. In fact I have put both through some pretty gruelling tasks, with great results. You can read my detailed article on my time with the ESEE Izula here. So what are the parameters of comparison on these types of tools? I think it's unfair to be putting them through "1 tool option" type tasks such as batonning, chopping, stress testing, because they're simply not designed for it. What they are supposed to be, in my opinion, is compact and discreet, lightweight yet strong, comfortable enough to want to use it a lot, and convenient enough so you reach for it instead of your main knife for basic camp chores such as quick food prep, cutting cordage, opening food packaging or making some minor camp tools.
Steel choices
The steel choices here are 1095 for the Izula and 420HC for the Principle. In my experience, 1095, being a high carbon steel, is extremely sensitive to corrosion and spot rusting. ESEE have taken measures to mitigate this by powder coating their knives, and the Izula is no exception. I don't have a huge problem with powder coating, however, for a bushcraft companion knife, this does limit its usefulness, such as being able to strike a firesteel. Using a companion blade with a firesteel is very common, and for me is one of the almost essential requirements for such a tool. That being said, I still love 1095. It's simple, it's easy to maintain and sharpen (notwithstanding the spot rust mentioned above) and it holds an edge well. For a beginner, 1095 is a great choice.
Moving over to the Principle, the steel choice here is 420HC, a low-end steel which I haven't had any experience with before this knife. Being stainless, it's definitely going to look better after a weekend of hard use than the Izula is (if you have removed the powder coating, which I have done). Cosmetic aesthetics aside, is the edge going to hold up vs 1095? Well, in my experience, the short answer would be no. With both of these knives freshly stropped, I found the Izula staying sharp for slightly longer than the Principle. I tried to keep the tasks simple, yet true to life in the types of chores I would normally expect of a companion blade. As stated above, this included cutting wood (making feathersticks), scraping birch bark, and slicing open food packaging. For this last one I simply took some cardboard, sliced for a little bit, and then went back to attempting a featherstick. Although the differences were not huge, they were noticeable.
For my money the 1095 wins this round.
Material choices
Aside from the actual steel, material choices are going to play a huge role in the quality of a blade. This goes for not just the handle materials, but also the sheath and the hardware choice such as the nuts and bolts keeping the blade together. For both of these knives, the materials are not overly high end, and so the subjective nature of these opinions has to come down to things like fit and finish, durability and robustness over time. As I previously mentioned, the Izula has been with me for years, with literally no issues regarding the wear and tear of the tool. But let's get into the details.
Starting with the handle choice, on the Izula we have canvas micarta scales held in place with allen bolts. This makes them easily removable and replaceable with different materials or colours if you so choose. The Principle comes with a rubber overmolded handle that is quite comfortable and features 3 "lashing holes" throughout the handle. (I would never lash my knife to a stick, especially if it was my only cutting tool. But that is besides the point). In terms of pure usefulness and material quality, for my money, the micarta is just that little bit grippier, especially when it's wet, although I will say that over time micarta can get slightly clogged, reducing its grippiness. This isn't a massive deal if you just clean the knife, but the rubber does not suffer from this. But here comes the stickler… apparently the rubber handle material on the Principle starts to fall apart and break! I have read more than one comment online about this. And sure enough, my one is also showing signs of wear.
After the scales, the sheath is another factor, both in material choices and in fit/finish. Both the Izula and the Principle come with plastic sheaths, but that is pretty much where the similarities end. I really love the sheath that comes with the Izula. It's super solid, snug, compact and simple, and allows for multiple mounting options. A simple clip on the back allows for belt carry, as well as holes that are useful for paracord. I opted to use the top hole with a leather cord as a neck carry option for a long time. However, I found in this orientation it was a little tricky to unsheath with one hand. If you fancy upgrading to an aftermarket product, I highly recommend checking out the Armatus carry sheath for this knife, as it's even more versatile and sturdy than the stock one. The Gerber Principles sheath is an interesting combination of things. Some of it I like… some of it I don't like. In terms of versatility, it is very good. The various attachments that come with the sheath make it very easy to carry in a variety of styles. Scout carry style, MOLLE webbing, standard belt carry, all are possible with the system, and the replacements are easy enough to change on the fly. I will say that the knife is a tad rattly in the sheath and I'm not entirely sure about the security of my knife here. They seem to have tried to remedy this with a velcro strap around the handle, which is fair enough. It does the job but I get the feeling it was an afterthought solution, rather than an initial design incorporation. And if you lost the velcro, the knife's security would definitely be in jeopardy.
For me, the ESEE Izula wins out on material choices, as well as fit and finish.
The Gerber Principle's sheath is very versatile
Ergonomics
There is absolutely no denying the comfortability of both of these tools in the hand. As stated, I have used the Izula for many years without any issues regarding hotspots or blisters. The handle is a sufficient length to hold in a full grip and its rounded pommel end sits comfortably against my chest when using it for the chest lever. The most comfortable thing about the Izula for me is the oversized finger choil in the blade, allowing me to really choke up onto the cutting edge. This gives me a lot of security and control, and the jimping on the spine further facilitates this. The Izula punches well above its weight, and I believe a lot of that has to do with the very well considered ergonomics. The scales are chunky enough, although a few more millimetres all round would be welcomed. Also they can feel a tad squared off at times. Regarding the edge geometry, I will always prefer a scandi edge. The sabre grind on the Izula is perfectly capable, as you will find on any ESEE knife, and my sharpening style has made the edge of my Izula better and better over time as it's moulded to my preference. I think I would love my Izula even more if it had a scandi though.
On to the Gerber Principle, and yes… this knife is absolutely beautifully comfortable in the hand. No matter the grip or the hand orientation, the Principle does it all. Gerber has clearly done their homework here and it shows. The drop point is nimble and accurate. The spine is sharp and very useful with a firesteel. I also really enjoy this scandi edge they have put on this blade. It's perfectly suited to bushcraft tasks. As stated, any number of grips work great and the overmolded plastic is chunky and grippy. The sheath, although a little rattly, allows for you to carry this blade in so many different positions, that it's always easy to find a style that suits, making drawing with one hand very easy.
For overall feel and comfortability, I would have to go with the Principle on this one. Gerber nailed the ergonomics.
Conclusion
When something is well designed, such as an app, a website, a tool… whatever… the choices made by the designers are invisible. You think, "well of course it is this way, why would it be any other?". It's only when something doesn't work that we notice bad design choices, and our frustrations come out. There are plenty who absolutely swear by Gerber knives, but for some reason they keep falling short for me in areas that I consider important. Rather than focussing on bells and whistles, I do wish they would simplify their products and concentrate on building some no nonsense tools. Both the Principle, and the new axe they released recently, suffer from this bells and whistles syndrome, while missing out on some fundamental design issues. Maybe it's marketing choices, I'm not sure. But what ESEE shows us is that, with a solid choice of good quality materials, consideration for the end user and how the tools are used, and a no nonsense confidence in their product, a reliable and popular knife is achievable. It seems like an obvious solution but apparently it's not. With the comfortability of the Principle, along with its considered features such as the 90 degree spine and scandi edge, I really thought that maybe the Izula could be dethroned in the companion knife category. But not this time it seems. There are too many niggly annoyances with the Gerber that are simply not present in the ESEE. A wiggly, noisy sheath, finicky parts like velcro and plastic inserts and the potential for the handle material to fall apart without being able to replace it, for me the ESEE Izula II is still the top dog.
ESEE Izula II
Pros
High quality material choices for the blade, sheath and scales
Lifetime warranty with no questions asked from ESEE
Versatile carry options
Ergonomically sound and very comfortable to use
Wide variety of aftermarket upgrades
Removable scales
Cons
Powder coating can be more annoying than useful
Out of the box, not very suited to bushcraft with sabre grind and no spine
More expensive than Principle
Gerber Principle
Pros
Very comfortable to hold and use
Sharp 90 degree spine makes use of firesteel and scraping tasks possible
Versatile carry options with component parts
Scandi grind better suited to bushcraft type tasks
Easy to sharpen
Cons
Knife rattles in sheath
Finicky components
Overmolded sheath is not very sturdy. Rumoured to fall apart
No aftermarket upgrades
Scales not replaceable or removable
Padraig Croke
Padraig Croke is the host of the outdoors podcast Trial by Fire, which ran from 2018-2023. A graphic designer and photographer by day, as well as an avid outdoorsman and bushcraft enthusiast, when he's not writing for us he's usually out in the field making film or taking photographs.
Promo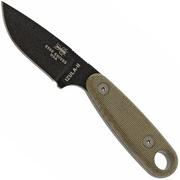 Promo