CRKT Woods Chogan T-Hawk 2730 axe, Ryan Johnson design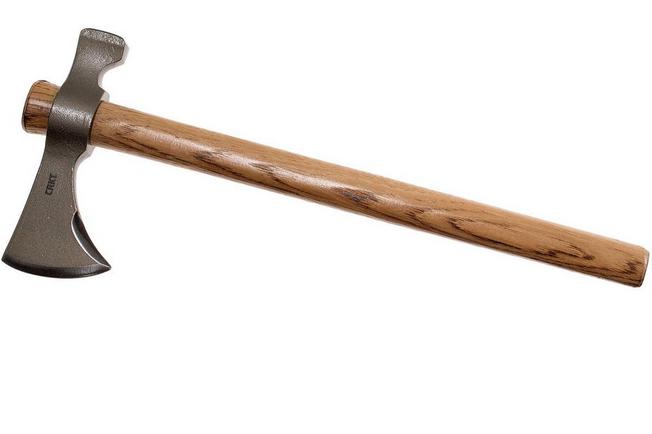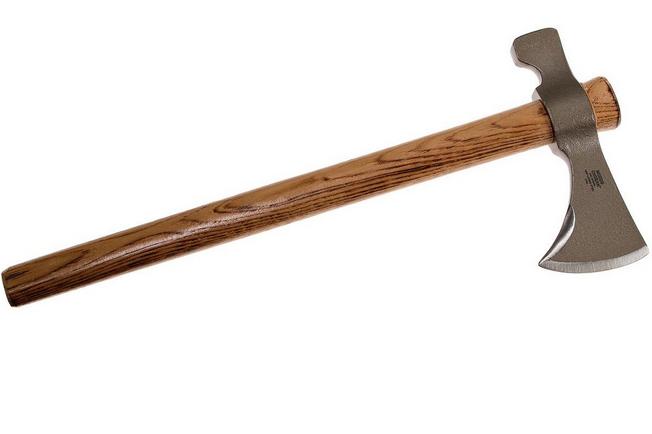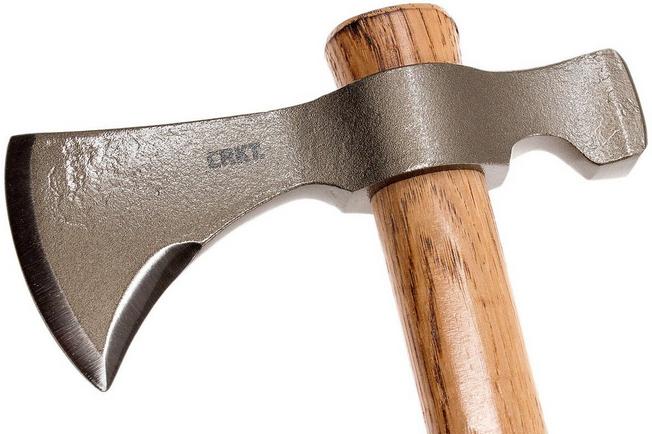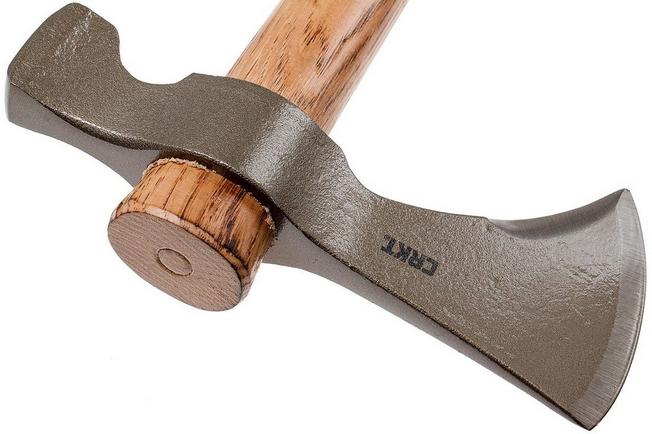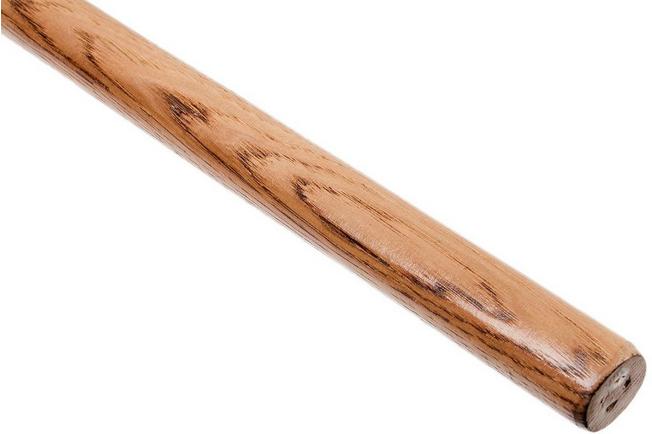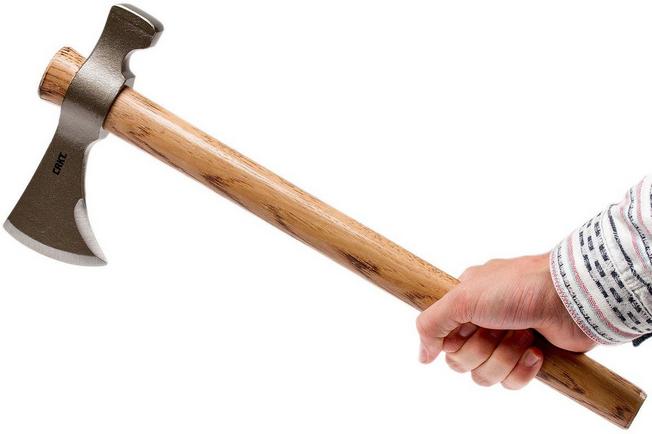 CRKT Woods Chogan T-Hawk 2730 axe, Ryan Johnson design
In stock
Fast delivery from our own stock
Our customers give us a 5-star rating
Fast delivery from our own stock
Full description
The CRKT Woods Kangee T-Hawk 2730 is an axe that was designed by Ryan Johnson. This American designer has been an axe specialist for over 30 years. The carbon steel axe head has a razor-sharp, hardened cutting edge for very sturdy use. The back of the axe head can be used like a hammer. This wooden handle is 'all-american made'. To be precise, the handle has been made by the Tennessse Hickory company. This type of wood is equipped to handle blows during use. As such the axe feels great in hand and is supplied with a protective coating. The handle extends a little into the axe head. As such you can easily place it on its head. This tough axe is made to be used!
Reviews
Geoffrey, Jauche
Tuesday, May 3, 2022
---
Michael , chelles
Friday, April 29, 2022
---
Charlie, Rotterdam
Wednesday, February 9, 2022
---
Indigo Arya, Belfast
Friday, January 7, 2022
CRKT has finally after many years of public and private I am sure complaints, learned to stop press fitting their handles to the dangerously high numbers of broken fibres often left behind, unfortunately they still haven't learned to oil their handles. I am sure the change is a response to the high numbers of broken handle reports from non throwers that used to circulate the internet. Unpacking this hawk I Had the wire brush and sand paper handy, as should you. They still haven't learned a damn thing about how to sharpen the thing either. Again no surprise there and I had the tools ready. The condition they send this out in is quite frankly extremely dangerous, I did go out and test it before profiling it and the number of bounce outs from even 45 degree cuts in thin green wood is beyond reason. Out of the box new this thing is horrible, dull, ugly and dangerous. Thankfully I am sure most people buying it are actually skilled in fixing such things and even planned to before purchasing. Unless you bought it for the tacticool scene, which is apparently a thing in modern society, oh how far we have come...sigh On that note In the unboxing you will find quite potentially the single greatest insult, at least in my experience since last week... to the current intellectual capacity of humanity with a multi page full glossy page booklet telling you how to attach the handle to the blade. It does make you wonder if they are simply and not so secretly mocking their customers and calling them all absolute idiots. For the price of the booklet they should be paying a guy to drop each handle in some linseed over night after it comes off the cnc or lathe, which ever one they end it on...instead of spraying them in plastic. They would be saving money by getting rid of the apray machine and the factory workers could have a nice bonus for the end of year. Once you taper the edge profile down and take about 5 grams of steel off it, it turns out to be a fairly decent cutter, though I am still tweaking the edge... It's heavier than my GB hunters axe by 109 grams in my model which is the reason I went for this one. Though I have had it over 15 years my gransfors has only needed reseated twice from natural loosening and still cuts beautifully. Out of the box with the old press fitted handles there is no way their handles would last that long but in the current method of shipping the handle and blade separate and with careful fitting this might just last. The handle is very light for hickory and despite their pride in saying it's tennesse hickory, it's no where near as dense as any vintage hickory you'll find on anything older than about 30-40 years. The grain is fairly good though only running off by about 15 degrees. Once it's oiled up in a good raw linseed it starts to feel alive again and it quite comfortable even in cold damp conditions, the only addition further required for a solid grip is dirty hands. The eye is far from symmetrical even to the naked eye with one side measuring 5.70mm, the other side being 6.26 as the top, and 4.4 and 5.3mm at the bottom, I haven't decided yet whether I will clean that up or not, it's already losing weight more than I like and I still haven't taken off the horrid blade coating. Once I do it will be patinaed and oiled as any good axe should be. It's also still rough, extremely rough on the inside of the eye, alI really can't see any reason it should be considering it literally took less than 10 seconds a side on a £20 powerfile to remove the rough sharp spots. Given the range of budget axes and hatchets around and the process that goes into mass producing these I would really expect better as I would consider this on the higher end of all of the budget options and definitely not the lower end of even middle range premium production. One of the reasons I like that hawk is the ability to belt carry it without the handle, or pack carry if you might prefer. I think anyone carrying an axe should be able to repair it in the field but honestly thats a hell of a lot of hassle if it's cold and in the uk it often is so the handle advantage over a small axe is worth it to me and that extra 100 grams might make up for a anything the gransfors might not split well. The blade takes a nice edge even coming off a 240 grit belt with a simple compound strop and will pop hair with no issues and my brief experience so far suggests it might at least hold that edge for a short while. I would be happier if this was available in 1075 over 1055 steel but it does seem to be at least very well tempered. The swedge if you wanna call it that isn't ground symetrical either, one side measuring about 9.3mm, the other 10.4mm of edge grind. I won't be sharpening this and will probably leave it alone. In the US this typically sells for 60 dollars from CRKT, but is usually found for 45 shipped and occasionally cheaper, 45 dollars right now in the UK is about £30 converted and might cost 45-50 if you had a personal friend ship it from america, despite getting this on sale from knives and tools, the price is basically doubled with shipping added to the top which is still expensive for a low budget quality hawk with simple 1055 steel, so the question is, is it worth nearly £70 on sale, yes I do think it is as long as you have the skills and tools to fix it. If you are new to axes and hawks I would definitely not recommend this for chopping and felling, loping or bucking. Throwers would be okay so use this to strengthen their throwing arm up a bit given it's high weight but I would suggest throwing on old target boards or you might see a lot of bounces. If it isn't on sale, wait until it is. If you're looking only a good chopper and performer in the 19-20 inch handle range, for this price you can get a Gransfors Bruks small forest axe for £6.50 more from ebay and it will out cut this hawk all week long. (true at time of writing) If you are more skilled and or looking for a project axe and or you want it for it's removable handle aspect then give it a try, I think it has the potential to at least keep up with a Gransfors if not out perform it by a tiny margin in performance if not in edge retention.
---
B@s, Winschoten
Wednesday, December 15, 2021
---
See all reviews
CRKT Woods Chogan T-Hawk 2730 axe, Ryan Johnson design
In stock
Fast delivery from our own stock
Our customers give us a 5-star rating
Fast delivery from our own stock