How do you use a sharpening stone? Video tutorial
Sharpening on a sharpening stone isn't difficult or scary at all! You can do it too. We've written a lot about how to sharpen on a sharpening stone. However, it's often just easier to show how it's done. In the video below we show you how to make your knives razor-sharp!.
Pre-sharpening
Pre-sharpening means that you're pushing the edge of the knife back into shape on a coarse sharpening stone. You're removing minor damage from the edge and pushing it into the correct angle again. For the best results, pre-sharpening is an important step in the process. If you don't pre-sharpen well, the finer sharpening stones will be less effective and the whole process will take you more time. To repair a blunt knife, use a coarse sharpening stone (up to about grain size 600). Only move on to a sharpening stone with a finer grain size when the edge has been evenly sharpened along the entire length.
Sharpening
After you're done pre-sharpening your knife, it's time to use a finer sharpening stone. Choose a sharpening stone with a higher grain size (between 600 and 3000). By sharpening with a higher grain size, you're removing the little scratches from the previous step. As a result, the edge will be smoother and sharper. Just make sure the step to a fine grain size is not too big. If you used a stone with grain size 180 for the first step, for example, then a 600 grit stone is perfect for the next step. And from 600 you can move on to 1000. Generally, the knife is ready for use after grain size 1000. However, you can also continue by polishing your knife. This will give you razor-sharp results!
Polishing
Polishing your knife is really nothing more than sharpening with a very fine grain size. When you're polishing your knife, you're no longer removing any material from the edge of the knife. You're simply smoothing out the last tiny imperfections, so the edge will shine like a diamond. By polishing the edge, your knife will become sharp enough that you could use it to shave your hair! You can polish your knife with a very fine sharpening stone (grain size 3000 and up) or with a strop.
Promo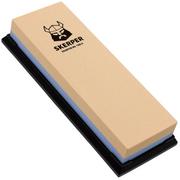 Promo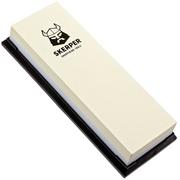 Promo