Zwilling Twin 1731 kitchen knives: cooperation with Matteo Thun
In cooperation with Italian architect and designer Matteo Thun a classic design icon was created, which meets the highest standards when it comes to innovation and production. This collection is a true classic, which, in addition to quality, also provides you with a stunning, streamlined design. This collection is truly one of the best Zwilling has ever produced. A unique symbiosis between beauty and functionality.
Read more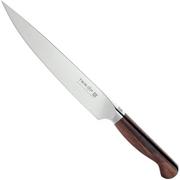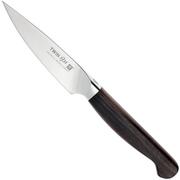 Characteristics for the Zwilling Twin 1731 kitchen knives
Zwilling Twin 1731 blade
The blade is made from Cronodur 30 steel. This is a type of steel for which Zwilling replaced most of the carbon for nitrogen. This type of steel is mostly used in aerospace engineering and is characterized by an impressive toughness and corrosion-resistance. You also find these characteristics in the Zwilling Twin 1731 knives! Because the crop is left out you can use the entire cutting surface. It also ensures that the knife is easier to sharpen.
The knives from the Zwilling Twin 1731 collection are forged with precision according to the Zwilling Sigmaforce method. This means that the blades are forged from one piece of steel with the help of a machine, leaving you with an exceptionally solid, balanced and flexible blade. With the help of laser technology, the knives are enhanced with a razor-sharp edge, after which they are polished by hand by expert sharpeners.
Zwilling Twin 1731 handle
The handles of these knives are made from stunning, oiled Makasser ebony wood. Matteo Thun also developed the design of the ergonomic handle. Ebony wood is a very heavy, dark type of wood that is becoming increasingly rare. The shape of the handle supports a professional grip, with your thumb and index finger resting on the blade.
Zwilling Twin 1731 maintenance
Like with all top-quality knives we recommend cleaning the knives from the Zwilling Twin 1731 collection by hand to make sure they stay in great shape for a really long time.