Work Sharp sharpening belts for the Blade Grinding Attachment, X200 ultra-coarse - X5 fine, SA0003563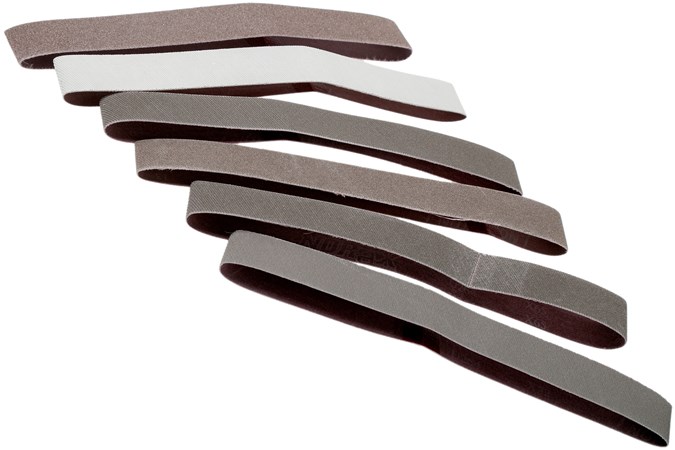 SKU: WSSA0003563
± 1 week
This product has been ordered. The delivery time is an indication. Please take delays into account.
The Work Sharp sharpening belts for the Blade Grinding Attachment, X200 - X5 ultra coarse to extra-fine, SA0003563 is a set of six sharpening belt for the Work Sharp Ken Onion Blade Grinding Attachment. These solid grinding belts run in grain sizes from ultra-coarse to extra fine. With this pack you immediately purchase all sharpening belts you need to turn blunt knives into razor-sharp knives.
The ceramic sharpening belts are enhanced with a layer made from NORaX Aluminium Oxide. This is a slightly less aggressive material than silicon carbide, which means that the belts will last even longer. Because of the stiff cotton backside the sharpening belts are very strong. The result is a smaller sharpening surface and a more precise sharpening result. Perfect for straight blades. The life of the belts depends on the intensity of use and the strength of the steel that needs to be sharpened. Our experience has taught us that one sharpening belt, with normal use, will last a couple of months. If you sharpen your knives on a daily basis the belt could, of course, wear out faster. These belts, however, will last longer than you might expect!
Contents
1x X200 ultra coarse
1x X100 extra coarse
1x x65 coarse
1x X45 medium
1x X22 fine
1x X5 extra fine
| | | |
| --- | --- | --- |
| Brand | Worksharp | |
| Colour | beige, white | |
| Country of origin | USA | |
± 1 week
This product has been ordered. The delivery time is an indication. Please take delays into account.

Product groups

Brands

Deals

Information

<![if !IE]> <![endif]>