Reviews for de Buyer Acier Carbone Steel frying pan, 18cm 5110.18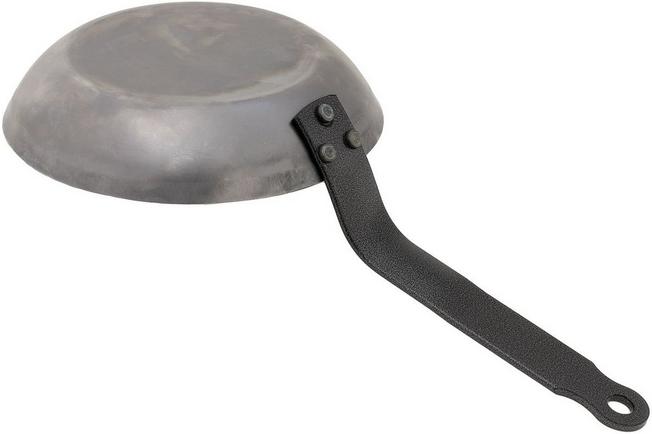 Article number DEB5110.18
Reviews for de Buyer Acier Carbone Steel frying pan, 18cm 5110.18
In stock
Fast delivery from our own stock
Our customers give us a 5-star rating
Fast delivery from our own stock
See all product information
Reviews
Patrick Peters, turnhout
Tuesday, July 14, 2020
---
Martin O Leary, Maynooth
Tuesday, July 7, 2020
Excellent piece of hardware!
---
Alexandre Becart, St sebastien sur Loire
Thursday, June 4, 2020
---
Olivier Raymond, Aix les bains
Tuesday, April 21, 2020
---
Fabrice NOLLET, Trespoux Rassiels
Sunday, March 29, 2020
---
cor hullegie, Vaals
Tuesday, February 25, 2020
---
Marc ASMUS, Soucia
Thursday, April 25, 2019
---
Roy Van der Veen, Apeldoorn
Monday, January 7, 2019
---
Steve , Wilby
Wednesday, February 7, 2018
Excellent little pan. After seasoning doesn't stick and cooks great. The pan was smaller than expected though. 18cm is the with from top lip to top lip not the base of the pan. My fault for not properly reading specifications but the pan works fine.
---
Anoniem, Warnsveld
Monday, December 18, 2017
---
Luke, London
Tuesday, November 14, 2017
---
Anoniem, Albergen
Saturday, August 12, 2017
---
Conny, Brandwijk
Saturday, May 13, 2017
---
Maarten Lockefeer, Eindhoven
Saturday, January 7, 2017
---
Anoniem, Gloucester
Thursday, January 5, 2017
Top quality product by a top quality maker. I have same in larger sizes before this Not for the inexperienced - these pans need careful cleaning and storage if the best is to be had from them
---
Article number DEB5110.18
Reviews for de Buyer Acier Carbone Steel frying pan, 18cm 5110.18
In stock
Fast delivery from our own stock
Our customers give us a 5-star rating
Fast delivery from our own stock