The NiteCore Tip was already one of the most powerful keychain flashlights on the market, but NiteCore truly outdid itself with this new and improved version. Meet the NiteCore Tip2. To be frank the name is not that original, but the light is absolutely amazing.
The Tip2 inherited all the good qualities of its predecessor: compact size, two switches, four light modes, built-in 500mAh-battery and micro-USB rechargeable. Never worry about batteries but simply charge it with a USB-cable. However, when we look at the exterior the Tip2 does not look like its predecessor at all. The size might be similar but the design is completely different. The Tip2, for instance, doesn't have one but two LED lights, the control buttons are not located on the wide but the narrow side and the USB port is located in the back instead of on the side. All improvements to make it even easier and more comfortable to use. In addition, the NiteCore Tip2 is solidly constructed. The casing is milled from aluminium and has a type III anodizing finish to make sure water and dust don't stand a chance.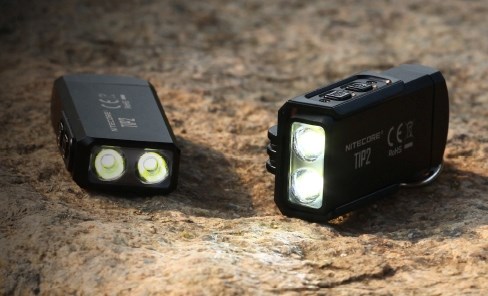 That's all for the looks. Now for its performances. The Tip2 has two LED lights. Yes, two CREE XP-GS S3 LED lights. Thanks to these high-grade lights this monster can produce 720 lumens and has a beam distance of 93 meters. Truly unheard of for a light this size!
Light modes on the NiteCore Tip2
Turbo (720 lumens, 15 minutes)
High (200 lumens, 1 hour and 15 minutes)
Medium (30 lumens, 8 hours)
Low (1 lumen, 55 hours)
The Tip2 has two switches. With the bottom switch you can turn the light on and with the top switch you can select the light modes. In addition, the NiteCore Tip2 has a demo-mode and a daily-mode. In the demo-mode the light will automatically turn of after 30 seconds of inactivity. In the daily-mode the light needs to be turned off by hand.

The battery time is, despite the relatively small battery, still considerable. In the highest mode you will only last 15 minutes, however, in the lowest mode 55 hours of light is very acceptable. The Tip2 is definitely developed to accompany your keys and meant to be shortly used in moments when you need it most. And for this purpose this light is absolutely perfect!

<![if !IE]> <![endif]>