DMT DiaSpray Diamond Suspension, 0.5 micron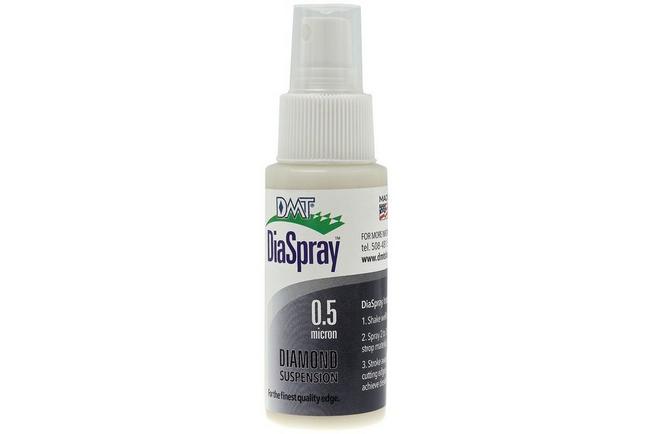 DMT DiaSpray Diamond Suspension, 0.5 micron
In stock
Fast delivery from our own stock
Our customers give us a 5-star rating
Fast delivery from our own stock
Full description
The DMT DiaSpray is a liquid which has diamond particles added to it. The spray is used on a strop to make stropping on your blade even more effective. You can spray on leather, balsa wood, maple wood or even on cardboard and you can create a very sharp edge for your knife. When you are looking for the perfect mirror-edge the DiaSpray is the way to go.
Reviews
The Deerstalker, Lanark
Saturday, April 21, 2018
As the name of the song goes (Diamonds Are Forever) Two sqirts on a strop brings a knife back to let you finish the important job of gralloching the animal & begining the cooling process In my job you need light reliable equipment that'll see you through (that little bottle of DMT diamond)does that & remember a little goes a long way with this product regards William
---
Manfred , Radolfzell
Wednesday, March 28, 2018
---
DS, Market Drayton
Thursday, November 16, 2017
This is the second bottle I have bought and the liquid itself works great - Unfortunately both bottles have had the same problem with pump action being sticky and subsequently I have had to replace the pump. So the spray in DiaSpray actually doesn't work! This is a great product let down by poor packaging that defeats the object of buying a spray.
Reaction by Knivesandtools
Thank you for the review! We have forwarded it to DMT, and hopefully they will change it!
---
Nova, 's-Gravenhage
Wednesday, June 28, 2017
---
Anoniempje, Zutphen
Monday, July 27, 2015
---
DMT DiaSpray Diamond Suspension, 0.5 micron
In stock
Fast delivery from our own stock
Our customers give us a 5-star rating
Fast delivery from our own stock