Wüsthof Classic Ikon Crème chef's knife 23 cm, 1040430123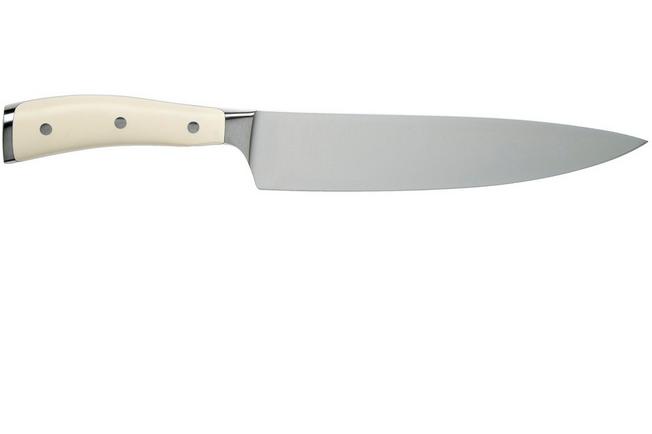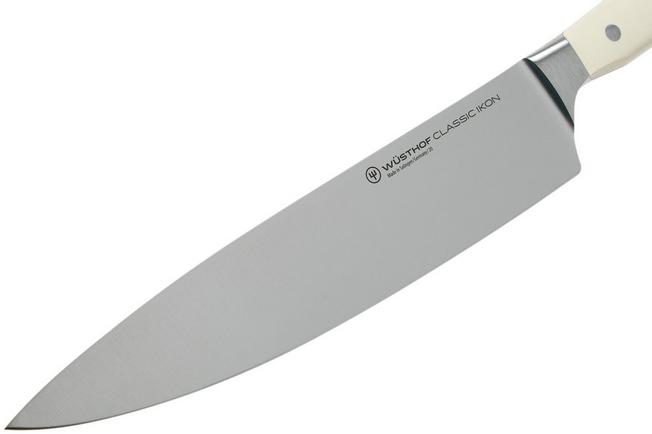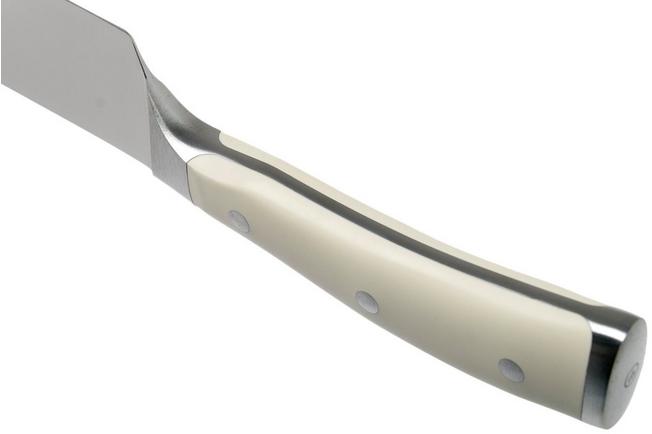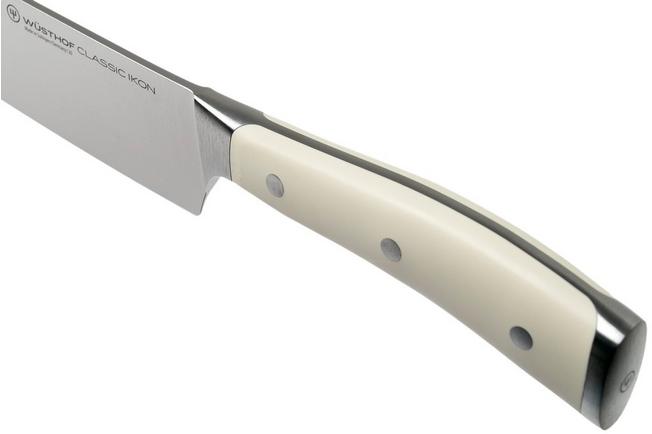 Article number WU1040430123
Wüsthof Classic Ikon Crème chef's knife 23 cm, 1040430123
In stock
Fast delivery from our own stock
Our customers give us a 5-star rating
Fast delivery from our own stock
Full description
The Wüsthof Classic Ikon White chef's knife 23 cm is a large chef's knife that can easily be used for the larger tasks in the kitchen.
Reviews
Anoniem, Dursley
Wednesday, February 7, 2018
Super knife and the most used in our kitchen. I was a little worried whether a 9" blade was too big but as this was on offer, we bought it. We needn't have worried as the ergonomics are fantastic. It feels "right" in the hand and the balance is wonderful, with a point of balance fractionally behind the half bolster. The edge is superb straight out of the box...shaving sharp, but doesn't hold too long. A few wipes using a quality steel followed by a hone on a leather strop after every day restore the edge in between proper sharpening on wet stones which I think would only be needed perhaps once every 3 to 6 months depending on how much use it gets. Surprisingly, the fit of the handle wasn't as precise as one of my Pro-cook knives as there was a very fine gap apparent at the front of the handle where it meets the bolster, and I don't like to see this as it's a place where bugs can be trapped and breed, but it was very fine and probably not worth worrying over. Overall, a superb balancing, razor sharp and very useful kitchen knife, highly recommended. Remember not to use these on anything other than wooden or nylon chopping blocks to look after the edge as any use of granite, marble or other hard chopping surfaces will fold and damage the edge in double quick time.
---
Julian, London
Thursday, August 17, 2017
Amazing knife....I will recomand to everyone.... I am professional chef and I am really happy with this knife
---
Jan, Bonheiden
Sunday, February 26, 2017
---
Mike, DONCASTER
Saturday, December 31, 2016
The weight of the knife is excellent. The centre of balance is very good. This is the second large wusthof classic ikon that I have bought. I find the handle more comfortable than the trident. Best knife money can buy in my opinion.
---
H, Woking
Tuesday, December 13, 2016
The knife have premium feel to it, the weight is good and it's nicely finished as far as shiny goes. One of the problems Wusthof have is that their knives have blades that aren't trimmed and are still quite sharp and uncomfortable when using the knife. If slide your finger you never know if it was the cutting edge or just unpolished part of the blade. While you most likely wont cut your finger there it's still not a nice feeling. Never the less the knife is excellent.
---
See all reviews
Article number WU1040430123
Wüsthof Classic Ikon Crème chef's knife 23 cm, 1040430123
In stock
Fast delivery from our own stock
Our customers give us a 5-star rating
Fast delivery from our own stock