LED torches & batteries
Every Day Carry torches (EDC), the name says it all
EDC torches or Every Day Carry torch is a well-known term. It stands for small, handy torches that can help you in unexpected situations.
All EDC torches are small enough to always carry them with you. But still, they must be versatile in use. They therefore are often larger than key ring torches. The Every Day Carry torches are easily portable and vary in size up to approximately 14 centimetres.
Which battery do you choose for an EDC torch?
The obvious choice is an AA penlite battery, rechargeable or not. Those batteries are readily (and cheaply) available worldwide. You could possibly choose an AAA battery to keep the torch even more compact. It is also good to consider a CR123A battery. The advantage of those lithium batteries is that they keep their charge a very long time (up to 10 years). That means that a light that you don't use very intensively is always ready for use if needed. Many lights that use 2 CR123A batteries can also be used with 18650 Li-Ion accumulators for more intensive use.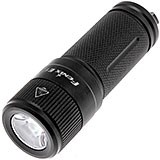 <![if !IE]> <![endif]>