Outdoor & gear
Kelly Kettle: speedy outdoor kettles

With a Kelly Kettle and little bit of fuel you can quickly boil a pot of water. After all, it is the ultimate combination between a stove and a kettle. Because of its ingenious design you will only need a little bit of fuel. A couple of branches or small pinecones and some kindle and you are ready to get started. In no time at all you will boil water for coffee, tea or soup. Perfect when you are out hiking or on the campsite.
But you can also cook using a Kelly Kettle. A simple accessory you add to the chimney on top of the Kettle is enough to carry a pan or other cooking accessory. Because of the concentrated flame that comes from the chimney your meal will be ready before you know it.
How does a Kelly Kettle work?
The Kelly Kettle is actually a double walled metal kettle with a large hollow opening in the middle. Because you start your fire underneath that kettle in the fire base the fire will attract oxygen from below on its own. As a result the Kelly Kettle efficiently and quickly uses its fuel. And because the water surrounds the entire hearth the exposure to the heat is very substantial. As a result you can quickly boil water!
The first Kelly Kettles were made at the end of the 19th century by the great-grandfather of the current owners of Kelly Kettle. He made these kettles in winter when there was little fish left in the creeks. In the rough west of Ireland the kettles quickly became really popular because they could bring water to a boil so rapidly. Fishermen from Great Britain and the rest of Europe became acquainted with Kelly Kettle during fishing trips to Ireland. As a result the reputation and the company grew. Today Kelly Kettle is owned by the fourth generation of the Kelly family.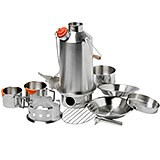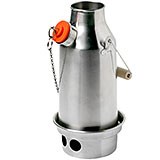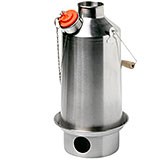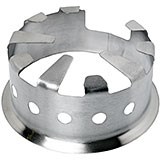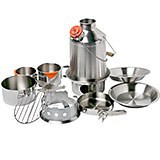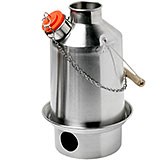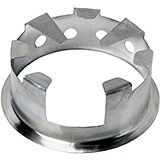 <![if !IE]> <![endif]>