Zero Tolerance knives: professional & strong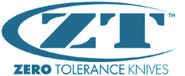 Zero Tolerance makes very strong, robust and heavy knives for professional use. That makes the Zero Tolerance knives super reliable and strong. The finishing of Zero Tolerance is meticulous and the knives exude trust.
As a professional soldier, police officer or fireman, member of a rescue team or medical aid team you need reliable equipment. It is no different for knives. Zero Tolerance filled that gap in the market in 2006. And it was successful. The Zero Tolerance knives are very popular.
Zero Tolerance combines real design with a heavy duty knife
Zero Tolerance knives are designed by Ken Onion in co-operation with Strider Knives. They are completely manufactured in the United States. The designs are very beautiful and popular. The 0550 and 0560 knife were developed with Rick Hinderer. The materials used are very solid and the knives are 'built like a tank'. A number of knives, including the 0350 are equipped with the SpeedSafe® assisted opening system. This legal opening system ensures that knives can be opened easily by hand and of course close super safely. Knivesandtools is very enthusiastic about the products by Zero Tolerance. Browse products if you want to buy a knife by Zero Tolerance.

<![if !IE]> <![endif]>