Kitchen knives & cutting
Leather aprons: 'hip and happening'
For decades leather aprons have been used by all sorts of professionals such as butchers, carpenters and blacksmiths. However, in kitchens worldwide leather aprons have also been for years. And leather is definitely making a comeback. Partially because of the tough and trendy look and feel of the leather, but also because of the perfect qualities.
A leather apron protects you from dirt, splatters and heat and is easy to maintain. You don't have to wash the apron, simply clean it with a moist towel and you are good to go. In addition, leather will only look better as time progresses. And the remarkable thing about leather is that each piece has its own unique characteristics and colours. As such no apron is the same.
The aprons have a simple adjustable neck strap and waist belt to make sure the apron will fit anyone. The neck strap has a canvas cover to make sure the leather won't cut your neck. In addition, the aprons have been enhanced with two practical loops you can use to store your grill tongs or tea towel. Whether you work as a professional chef, are a BBQ king or simply the cook of the house: leather aprons are there for anyone who loves to get his hands dirty.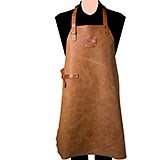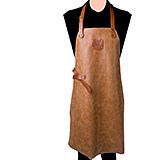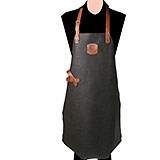 <![if !IE]> <![endif]>