Kitchen knives & cutting
Sakai Takayuki 33 Layer Damascus: A beautiful blend of various styles
The kitchen knives from Sakai Takayuki are hand crafted and sharpened in Japan. This also applies to the 33 Layer Damascus series. The knives have a VG10 Damast-steel blade and a handle of Spanish mahogany wood. Very beautiful to look at, but also great for cutting.
Damast-steel VG10 blade
All knives from this series have a blade with a core comprised of VG10-steel with different layers of damast-steel folded around. The top of each blade is hammered, also called "tsuchime". A beautifully designed combination, which in addition has a functional property: thanks to the hammered top, the chance of food sticking to the blade is significantly reduced.
Classic Japanese sharpening
A feature of VG10 is that it is easy to maintain and easy to grind. In addition, the 33 Layer Damascus-kitchen knives are very sharp right out of the box, which they also retain for quite some time. You will cut through almost anything without any effort!
Western handle
The particular-looking blade is completed by a Western grip of Spanish mahogany wood. A type of wood with a warm look and a deep red color. It is fixed with rivets and a stainless steel bolster. The result of this combination is a series of knives with a blend of various styles. But a very suitable blend that is guaranteed to stand out, both in terms of appearance and in terms of performance.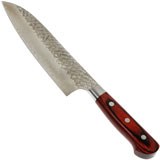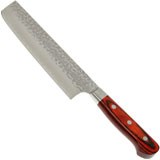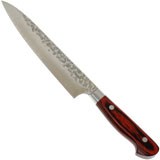 <![if !IE]> <![endif]>