Pocket Knives & Multitools
Emerson Knives: the #1 hard use knives in the world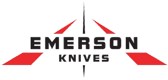 Emerson Knives makes solid pocket knives for heavy use. It is a high-end pocket knife brand with a great reputation. Emerson is known for the attention they pay to the actual use of the knife. The blades are a true pleasure to work with.
This does not mean, however, they haven't looked at the design. Many different designs by founder Ernest Emerson are on display at the Metropolitan Museum of Art and the Smithsonian Museum. An honour not many living artists have. A number of Emerson knives designs are known for collaborations with Zero Tolerance and Kershaw. However, these versions do not fully measure up to the original designs from the master himself.
NYynRz82bAo
Emerson Wave opener, characteristic of Emerson Knives
The Emerson wave opener is the characteristic wave on the back of the blade of many Emerson folding knives. This "hook" can be used to open the pocket knife while you take it out of your pocket. When you take the knife out of your pocket, the wave sticks behind the edge of your pocket automatically opening the knife. It works so well many other companies have copied t. For instance Spyderco with their famous Wave Delica. For many, an introduction to the Emerson Wave. The wave can also be used as a bottle opener, which is really cool!
Sharpened on one side
Emerson also produces some knives with so-called chisel grind. The blade is not sharpened hollow, or full-flat, but completely flat on one side and the other side a bit like a chisel. Also the Emerson knives that have a symmetrical blade shape are also only sharpened on one side the edge. According to Emerson because the knife can be sharpened in the field easier. Sharpen on one side until you can feel a burr and then slightly sharpen the other side for a great result. So this is not a production error, but the way Emerson knives made.
History of Emerson Knives
The foundation for Emerson Knives as we know it today dates back to 1979, when Ernest Emerson began making custom knives. His background as a soldier and martial arts instructor gave him clear ideas about how a knife should be made. In 1996 Emerson increased his production to have more people be able to work with his knives. He founded Emerson Knives and started producing folding knives and fixed knives on a large scale. Today Emerson Knives is a family business with eye for detail and focus on usage and what the user wants.

<![if !IE]> <![endif]>